Interviews
Main Content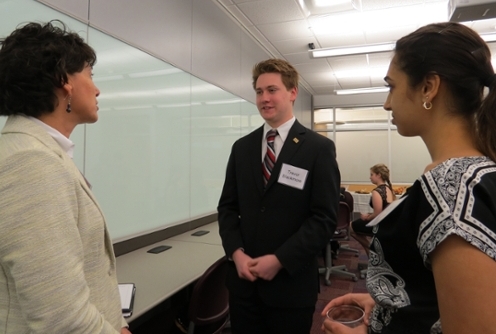 Interviews allow committee and panel members the opportunity to meet the applicants and challenge them to articulate their objectives "on their feet."
Various highly desirable fellowships require personal interviews. Even the Fulbright, which considers its detailed application a "paper interview," requires an on-campus interview with a member of the campus Fulbright Committee.
Interview-heavy fellowships, like the Truman, have challenged many of our students. Finalists have shared a number of qualities:
They are extremely well read – not only in their area of expertise, but also in other fields. Students in computer science may draw questions on film and literature. A major in political science may be asked the meaning of art. An economist may find herself answering questions about biology or math.
They are well-versed in the broader social and ethical implications of their field.
They have a firm grasp of ongoing scholarship in their field and have thought deeply about how their own research fits into that picture.
They keep an eye on current affairs and on the implications of international developments on U.S. policy. They listen to National Public Radio faithfully and read The Economist, The New York Times, New Republic, Slate online, and other weighty news sources.
They question everything.
At age 20, 21, or 22, even the most articulate SIUC student may be intimidated by the prospect of appearing before a committee of six to nine senior CEOs and professors. The shyest students may fear that they have no chance. Among past winners, however, are the following: one student who had never been in an interview situation in her life, another who felt self-conscious about appearing in public, and another who vastly preferred small seminars to larger forums. Career Services offers workshops on interview preparation, and the Office of Major Scholarship Advisement runs mock interviews for students chosen to interview for national fellowships. Our best advice? Keep the goal in mind – what the program and fellowship offer you for further study and travel.  There is no such thing as being too ambitious.